Week 2 – Day 5 // Fort Marian and Hortulus Gardens
For the first time on the trip, Marcin and I were granted the liberty to decide our own fun. In an adventurous style resembling something from Top Gear, the only guideline we were to adhere to was to arrive in Szczecin by roughly 5 pm. West Pomerania was our oyster!
With the sun on our backs, and the city beckoning, we hit the open road to begin our 3 and a half hour journey. We'd heard about some enchanting gardens – complete with unusual attractions – which were on route, so we agreed to stop there to learn more.
Prior to that, however, we stumbled upon something a little more out of the ordinary.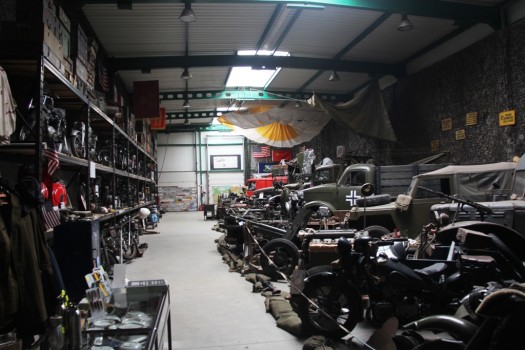 While it's common in Poland to see memorials and remnants of former political regimes, as well as attractions which reflect on the military
battles which have occurred in an area, it's altogether uncommon to come across a military attraction so impressive as Fort Marian, which could have been easy enough to miss as passed through the town of Malechowo. Catchying my eye on an elevated embankment to our right was parked a series of trucks, tanks and dilapidated planes. Once again, West Pomerania surprised us with the unexpected.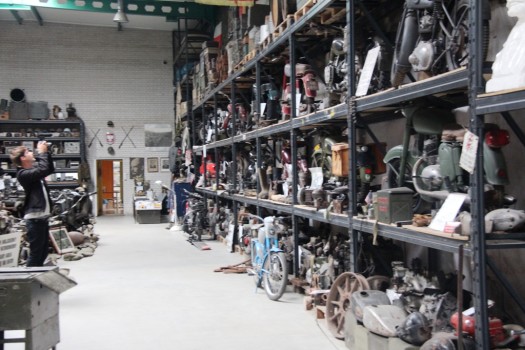 When introducing ourselves to the amicable owner of the collection at Fort Marion, we were pleased to learn that she had heard about the Az Po Morze project on local radio! She was very welcoming and invited us to discover the hidden gems inside.

Set in and around an old warehouse or industrial building, Fort Marian exhibits the greatest collection of wartime memorabilia that I have ever seen. An array of vintage number plates formed a collage on a wall; motorbikes were displayed as high as the ceiling would allow; and, aside from a narrow walkway, the remainder of the enormous building was packed with every other spectacle one might expect to see, in addition to those one may not: anachronistic flags adorned the walls, injured mannequins lay on camp beds, and numerous worn-out vehicles – many of which I'd never seen – were parked side by side. We could have spent hours just spotting unusual items.
We bid goodbye to Fort Marian and pressed on to Hortulus Gardens, which received the award for best tourist product 2014 – one of the most prestigious awards in the tourism industry. We were eager to find out more.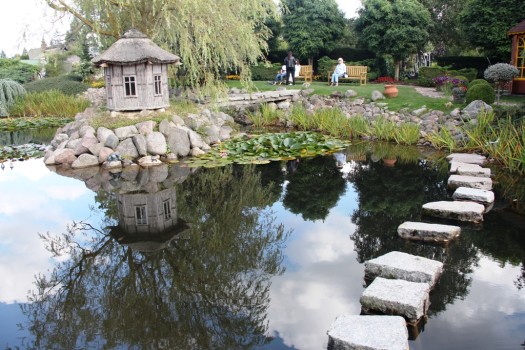 Navigating our way past the busiest crowd of people we'd seen in our tour of West Pomerania, we made our way to the entrance of thegardens. The word 'gardens', however, was somewhat of an understatement: the overall expanse of grounds amounts to 70 hectares of land, comprising 30 themed gardens and over 3,500 varieties of plants! We had some exploring to do.
Naturally, we headed for the central attraction – the world's largest hornbeam maze, which covers 1 hectare of land, and can be navigated with a shortest path of 1 km. Getting a sneaky insight into the best direction to take, we first climbed the 20 meter high observation tower in the centre of the maze. The views over the entire park were spectacular, and we were able to appreciate the enormity of the maze.
We entered the alleyway of hornbeam trees, which rose up 2 m either side of us, and, like homing pigeons on a mission, we found our way home without too much of a challenge, although our relief at doing so was celebrated triumphantly. We then spent a good deal of time wandering around the 30 themed gardens, which ranged from a Gaudi garden to a tradition British garden, and everything in between. Paths, made of all sorts of materials, meandered through glorious collections of flowers, bushes and herbs; frogs jumped gaily from lily-pad to lily-pad in the Japanese Gardens; and elegant white roses scented the air nicely. The attention to detail was extremely impressive, and created a bucolic setting in which we spent a peaceful Friday afternoon.
After lunch, the long drive back to the city lured us onward. We'd been saved from the monotony of the Beatles album by an emergency supply of CDs, so the new music entertained us along the way.
This evening will be spent relaxing at the hostel in preparation for tomorrow's 4.2 km (not) fun run. Although, by 'relaxing' I mean sampling Polish beer, and by 'hostel' I mean local bar.
---
Marcin's video from today: