Week 2 – Day 6 // Szczecin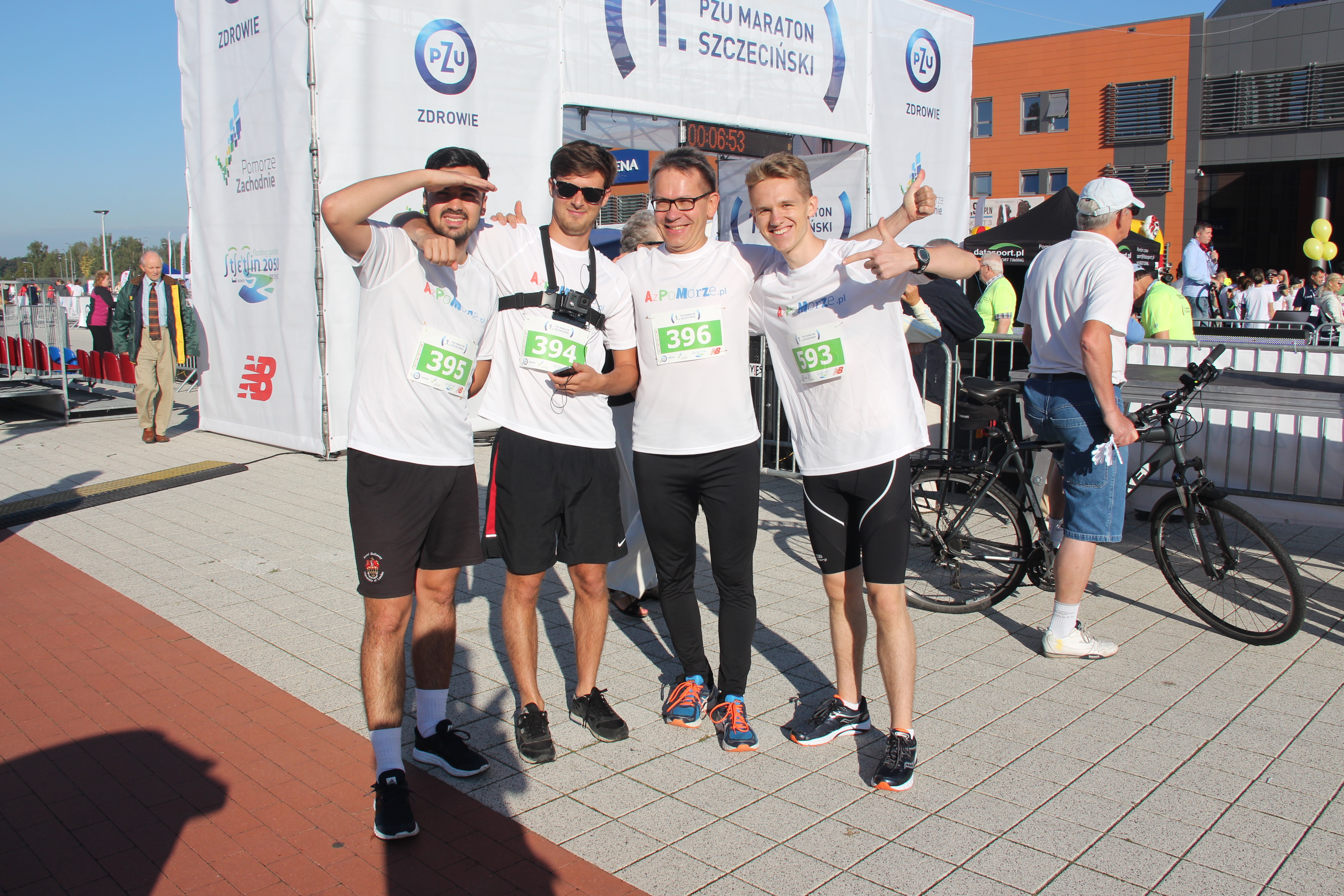 Today was the day we'd all been dreading; the day that was to distinguish the mighty from the weak, the heroes from the crowd, and the fit from the…not so fit: the Szczecin fun run! A grueling 4.2 km run stood between us and either eternal glory or utter ignominy.
Perhaps the stakes weren't that high, but I am a very competitive person.
After a…quiet night in…last night, Marcin and I, along with Wojtek and Maciej from the Az Po Morze team, were refreshed and excellently prepared to tackle the challenge that lay ahead of us on the sun-filled streets of Szczecin. Rather disconcertingly, we arrived at the start line to a substantial crowd of professional looking runners. With the start of the Szczecin marathon preceding our race by 15 minutes, however, the majority of these departed on their epic 42 km run, leaving us with a 600-strong group, comprising, in most part, the elderly, young children, and those sporting jocular dress. With our egos slightly dented, but our sense of determination in tact, we battled past fairies, super heroes and bumble-bees to find a spot near the front to start.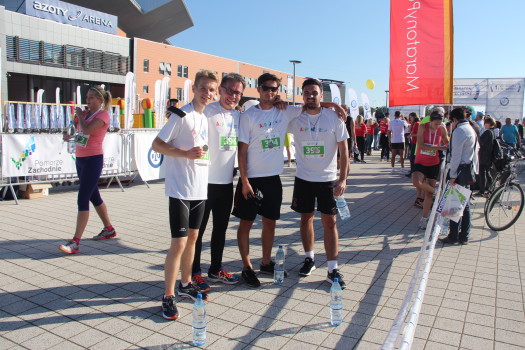 Before we knew it, we were running in formation past the start line, with the encouraging cheer of the crowd resounding in our ears. After 100m or so, we were running individually, each of us jostling with our competitors in individual races. The crowd continued to motivate us as we ran, clapping us around each bend, holding flags, banners and cameras.
The speed was fast and the race felt long. It was painful and I had no idea how far I'd ran, or how far I had to go. Maciej was ahead of me, while Wojtek and Marcin were narrowly behind. With a final, amplified cheer for the crowd, I realised that I was on the final straight and pushed hard to finish well. With a time of 19:30, I crossed the finish line in the top 10, only to be greeted by Maciej, who looked like he'd just been on a stroll in the park and had finished in third position! Soon after, Marcin and Wojtek joined us; each runner from teach Az Po Morze finished in the top 20!
We were thrilled, but wasted no time in heading back to the Cuma Hostel to get washed and changed for the day's exciting activities!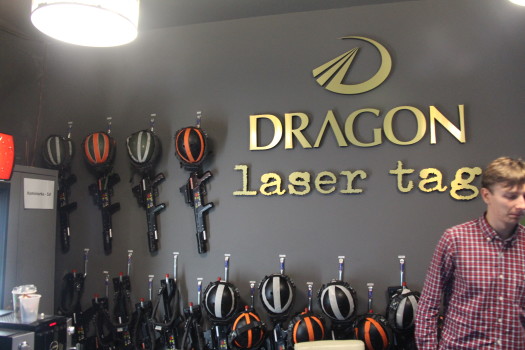 After a hasty turnaround, and a drama involving lost car keys (Marcin's fault), we headed to Dragon Escape to experience an attraction which is very much in vogue throughout Poland. Housed in an industrial looking building, it's called escape room, and, as the name suggests, merely involves escaping from a room using a sequence of clues, keys and codes. I was intrigued by the idea, but questioned how difficult it would be…
First, however, in the same complex, Marcin and I enacted every Starwars fan's fantasy in a tense game of laser quest. We dashed between makeshift buildings, climbed upon platforms, and crawled through tunnels, all the while zapping each other with realistic sounding laser guns – it was great fun.
The escape room then tantilised us from afar: the spine-chilling voice recording of a narrator could be heard from behind the locked door, as we prepared to escape the room; the premise being that Marcin and I were thieves, and needed to evade capture after stealing a diamond.
Blindfolded, we were lead into the room. There was a clicking sound and we were locked in, with an hour to escape before the police arrived. We quickly set to work, upending every movable object. Clues led to codes, codes led to objects, objects led to clues. We progressed slowly, but, unfortunately, we were captured by the police after an hour of escape attempts.
This type of game is a relatively new concept, I believe – at least, I've never seen anything like it in the UK, although I did once download an app on my mobile that simulated a similar scenario. It was tense, challenging and really enjoyable to do. The activities at Dragon escape further emphasised the range of activities on offer in the region. I certainly did not expect to be pushing back bookcases to reveal hidden passageways when I first arrived in Poland.
For lunch we were promised a traditional Szczecin's dish, from an authentic Polish diner, which is exactly what we got. Pasztecik is essentially a doughnut with a savoury filling, and was served at a long table with high stools. The decor of the simplistic venue was bright orange in colour, and resembled something from a film set.
Following the morning's run, we welcomed news that we'd be treated to a massage at Baltica Wellness & Spa – one of the finest of its kind in Szczecin – followed by access to their luxurious facilities. The spa is located in a modern looking building in the centre of Szczecin, which iterates its quality. The massage was blissful and relaxed us perfectly, before we each used the jacuzzi, sauna, Turkish bath, heated beds and steam rooms. My favourite room, however, was the snow cave, which was chilled to -15 degrees. The floor, covered in snow, sent chills through ones feet, while the wood covered walls gave the impression of a log cabin. The low temperature felt refreshing, especially when experienced before a trip to the sauna!
Feeling truly tranquilized, Marcin and I left Baltica for our hostel. We had time enough to change before dinner at Restaurant Szczecin.
Expecting a run of the mill restaurant, we were pleasantly surprised to be treated to a superb three course dinner at one of the finest restaurants of the trip so far. The tables were laid with precision, care and ingenuity; the food was prepared likewise. We ate paprykarz – a local, fish-based delicacy – for a starter, fish soup for seconds, and a sumptuous main of chicken wrapped in ham. We were disappointed to have to leave before live music and dancing began at 8pm.
It's been a really busy day! Our bodies ache from being subjected to exercise, but we're excited for what tomorrow will bring!
---
Marcin's video from today: